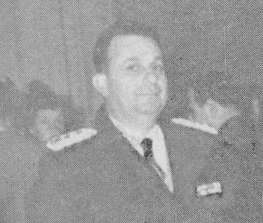 Toufic Salem
Date and place of birth: 1904 - Tyre - Caza of Tyre
Spoken Languages: French
Marital status: Married/3 children
Promotions
Enrolled in the 2nd Syrian Joint Legion on 10/08/1923, and joined the Military Academy in Damascus as Cadet Officer on 15/10/1923.
Promoted to Second Lieutenant on 18/09/1925
Promoted to First Lieutenant on 25/06/1928
Promoted to Captain on 01/04/1933
Promoted to Lieutenant Colonel on 15/06/1941
Promoted to Colonel on 01/01/1946
Promoted to Brigadier General on 01/07/1950
Promoted to Major General on 01/01/1959
Promoted to Lieutenant General on 01/02/1959
Functions
Assigned to the 3rd Levant regiment on 01/01/1926
Assigned as Instructor to the Military Academy of Damascus on 26/09/1929
Assigned to the 3rd Lebanese company of snipers on 01/09/1931
Assigned to the HQ of the 8th Lebanese company of snipers on 11/06/1932
Assigned to the 7th Levant regiment on 10/07/1932
Assigned to the 8th Levant regiment on 05/09/1934
Assigned to the 2nd Lebanese company of snipers on 25/02/1936
Assigned to the high command of the Staff of war- 2nd Branch, on 26/04/1937
Assigned to the Headquarters and was commissioned to the War Staff Command in Lebanon on 01/10/1940
Attached to the High Command of the French Free Forces, The Special Branch of the Armies of the Levant on 05/08/1941
Assigned Commander of the 2nd regiment of snipers on 10/02//1942
Commissioned to the War Staff of the 5th Mountaineers Brigade, as chief of War Staff on 18/04/1944
Assigned as Commander of the 2nd Regiment of Snipers on 16/02/1945
Nominated as Chief of War Staff of the Lebanese Army on 01/08/1945, following the transfer of the Army under the authority of the Lebanese National Government
Named the Lebanese Armed Forces Commander on 09/10/1958
Assigned as Military Attaché to the Lebanese embassies in Western Europe , in Paris on 01/02/1959
Passed away on 23/02/1959
Courses inside the country
Attended a course to complete his studies in Damascus from 03/03/1932 to 10/06/1932
Attended a War Staff course in Damascus in 1937
Courses abroad
Attended a course in France as from 19/04/1928 to 25/09/1929 comprising (Instructor officer in Versailles, Gunnery Field course at the military camp in Chalon, course at the Infantry and Tanks Officers School at St Mexin, participated in the great maneuvers in summer of 1929).
Medals and honors
Order of the Military Cross
Lebanese Silver Order of Merit in 2nd class
Syrian Medal of Merit in 3rd class
Commemorative Medal (Syria-Cilice)
Order of the Legion of Honor in Grade of Knight, from the French Government
Lebanese Golden Medal of Merit
Syrian Order of Merit in 2nd class
Palestine Commemorative Medal
National Decoration of the Cedar in grade of Knight
Order of the Star of Jordan in 2nd class
National Order of the Cedar in Officer Grade.
Syrian War Medal in 1st Class
Order of the French Legion of Honor in the Grade of Officer
National Order of the Cedar, order of Commandor
Republic of Egypt Order of Merit, 3rd Class
Iraqi Order of the two Rivers in 2nd Class
Order of the Pahlavi of the Empire of Iran in grade of Grand officer
King of Greece Order of the Phoenix in grade of Grand officer
Commendation for promotion to Lieutenant General.